You're in the market for a new performance-based sedan but have yet to settle on a particular model. We understand that there are plenty of vehicles to select from within this segment. In that respect, our sales team would like to provide their expertise and inside knowledge to help facilitate your search for the ultimate driving machine. A popular option for drivers throughout the Colby, WI and Abbotsford region is the Dodge Challenger -- a time machine of sorts as it boasts the classic exterior style that has cemented the model's legendary status in its class. However, under the hood, you'll find anything but nostalgia as the vehicle offers up a range of highly advanced pioneering powertrains tuned to deliver peak horsepower and torque. The Dodge Challenger is an icon and fan-favorite for drivers looking to experience more thrill than most others on the roads. Whether you're running errands- dropping your kids off at school, or simply making your normal commute to work, the Dodge Challenger will add a notable spark to your seemingly mundane everyday travels.
Interior
The interior of the Dodge Challenger isn't bare-bones, nor does it skimp in the field of advanced technology. The vehicle offers a healthy range of convenient niceties to better improve your everyday traveling with wide front seats and an ample amount of legroom and headroom for first and second-row passengers alike. The Challenger also boasts more cargo space than its competitors which allows it to haul around a golf bag, groceries, and your briefcase without intruding on essential passenger space. The Dodge Challenger includes Apple CarPlay and Android Auto which can be easily accessed through an intuitive infotainment center that's embedded in the core of the center console. The vehicle also offers a bolstered sound system for those drivers who appreciate improved sonic quality.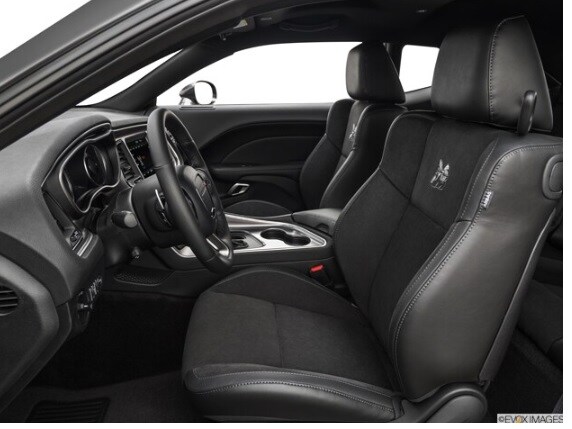 Performance
The Challenger rides with a base V6 engine generating 305 horsepower. While that's clearly enough to satisfy your wild side, the vehicle also offers more robust and classic muscle car performance through a 375-horsepower 5.7-liter HEMI V8 engine that offers a throaty roar when pushed to its limits. The Challenger's true mythic capabilities lie within the available 6.4-liter V8 engine that produces an ample 485 horsepower and 475 pound-feet of torque. Step on the gas and this powertrain will rocket you forward with electrifying quickness. While the Challenger might not handle as smartly as more compact sports coupes from foreign manufacturers, the vehicle calls back upon its rich tradition of American style and ingenuity with its supple suspension and impressive transmission options. While an eight-speed automatic is standard, you're also afforded an available six-speed manual that's excellent for those Medford drivers looking for a more traditional driving experience.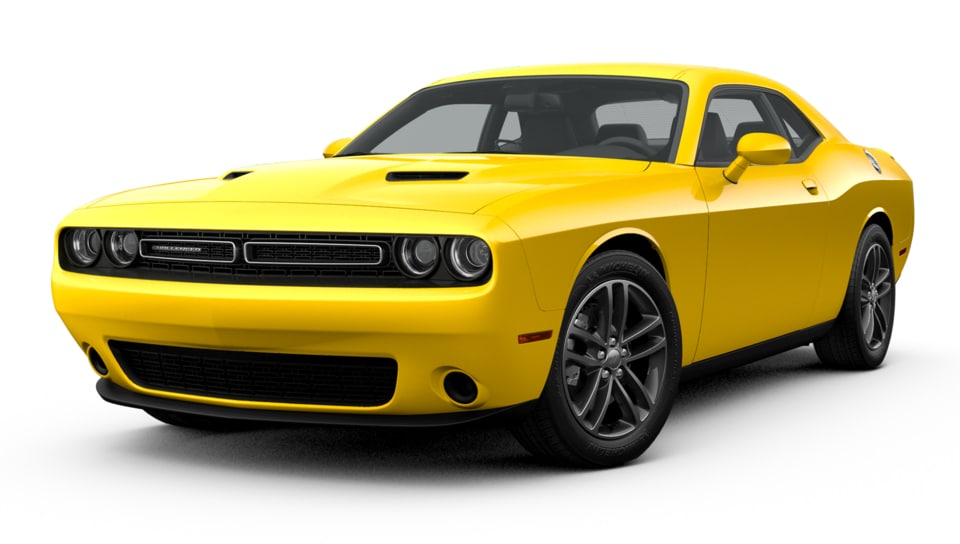 Exterior Design
Part of the draw to the Dodge Challenger is its unique exterior design. The elongated body can be customized with available side stripes, graphics, Bumblebee stripes, SRT Twin Racing Stripes, and badging depending on your trim model selection. If you're on a tighter budget and can't shell out for a top-trim Challenger there's no need to worry. The model also offers a wide range of colors to select from. Settle for the base model and you'll still be afforded classic muscle-car style and poise.
Set Up a Test Drive in the New Challenger Today
If you'd like to test drive the new Dodge Challenger, we encourage you to contact a member of our team at our Dodge dealership located just outside Marshfield and Owen, WI. We look forward to putting you behind the wheel of the Challenger that catches your eye.